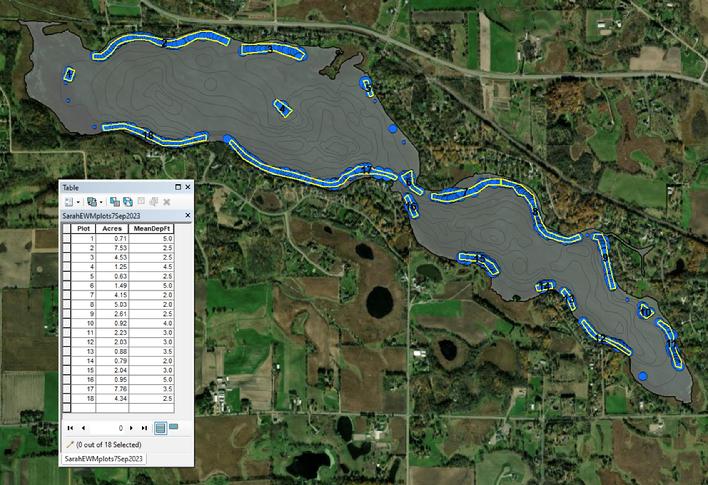 EWM Treatment areas. East Bay Fall 2023. West Bay planned for 2024
Fall Eurasian Milfoil Treatment applied to East Bay 10/2/2023
LSIA contractors resurveyed the EWM on Sarah and found substantial regrowth in the areas previously treated with diquat. Presumably this indicates that our past diquat treatments have not provided long-term control. The total updated plot area for the (above) treatment map is 50 acres.
The plan is to treat the plots in the SE basin in fall of 2023 and then treat the plots in the West basin in 2024 with ProcellaCOR EC. The narrow point between the lakes will help to minimize the movement of EWM between the basins until we are able to treat the West basin. It is expected that this strategy would provide excellent long-term control of EWM in the lake.
Using ProcellaCOR EC was recommended to better long-term control, meaning that we would not need to treat much EWM for the next 3-5 years. Recommendation by James A. Johnson, Aquatic Ecologist; MS, CLM, Freshwater Scientific Services, LLC
---
Rainfall of nearly 12" over the last 8 days has helped our lake levels to recover to a more normal seasonal level. Surface water elevations have come up to roughly 9" higher that the low reading on 9/17/23.
The most recent water level reading of 2023 was 979.10'
on September 30 (East Bay gauge)
This can be compared to
the No-Wake trigger elevation of 981.10 and the final reading last fall on November 20, 2022 of 977.62' and the Ordinary High Water Level for Sarah of 979.90'. Thank you to Cindy Keating (west bay) and the Spencer family (east bay) who continue to volunteer their time to monitor our lakes' water levels for the MN DNR, LSIA, and our website for yet another year!
WALLEYE CAUGHT!

Steve Howell with his nice 19.75 " caught on west bay 9/16/23

We continue to get reports of nice walleyes being caught directly resulting from our nearly 2 decade walleye stocking program.

Following several years of privately funded (no financial assistance from the MN DNR) walleye stocking, reports of walleyes being caught started coming in. A few small unconfirmed reports in the summer of 2009 followed by a wave of walleye catching stories in 2010 and 2011! Anyone catching a walleye in lake sarah is encouraged to report the size of the fish and date of catch to this website (

email

). Photos of the catch will be published if provided.

Thank you to all those who have contributed to the stocking fund and to those who have actively worked to bring the walleyes back to Lake Sarah!






Help support continued walleye stocking in lake Sarah! Click the

Pay

pal

button on left to donate to the stocking program with any major credit card or bank balance transfer. Your tax deductible donations are greatly appreciated



A beautiful evening for the

Summer LSIA meeting and Ice Cream Social

Thank you to the LSIA Board and to Mary Jorgenson for hosting the gathering!

4th of July Boat Parade decorating contest winners were announced

1st Place - the Balinski family (Barbie)

2nd Place - the Bechetti's - (Veterans Remembered)

3rd Place - the Sorensen's (South Park)

Elections were held for LSIA Board.




Thank you to our departing Board members: Mike Malone & Andy Althauser. your service to our community is greatly appreciated!

Board Members with expiring terms that have agreed to continue: Bill Scandrett, Scott Beaupre, & Steve Harrington. We appreciate your willingness to continue serve and value your experience!

New additions to the LSIA Board: Abby Holenko, Natalie Palmer, Tyler Johnson & Scott Engle. Thank you for your willingness to donate your time and energy!



27th Annual 4th of July Boat Parade!
Parade began at 2;00pm - parade boats gathered at the west end near the public landing at 1:50 in spite of the threat of rain. This year's suggested themes : Patriotic or Movie/TV series.
Prizes! LSIA is donating gift cards for the most festive boats, awards will be annouunced at the LSIA Summer General Membership meeting.
Thank you to Sarah Evjen for coordinating this yaer's 4th of July flotilla!
If any participants would like copies of the photos taken today

email Brad



Many of the questions emailed to this site regard illegal or inconsiderate snowmobile, atv, boat or pwc operation or fishing/hunting violation questions. To report illegal vehicular activity you should contact Hennepin County Sheriff Water Patrol (612)596-9880, or West Hennepin Public Safety (763)479-0500, The Water Patrol will not issue a citation for offenses they do not witness. They may issue a citation if the witness agrees sign the complaint (much like a citizens arrest). If you plan on filing charges against an individual you should make note of the date, time, vehicle description and license number, identity or good description of the operator. A side note; If the offender wishes to appear in court you may be required to appear as witness / accuser. To report hunting or fishing violations call DNR West Metro Conservation Officer: Ben Ulrich Phone: (651)242-2166, DNR Enforcement (651)582-1502, or orTIP (turn in poachers) toll free hotline 800-652-9093. Click the blue text for a copy of the Minnesota Snowmobile Regs , Personal Watercraft Regs , MN Boating Guide , ATV/OHV Regs, or the current MN Fishing Regulations , in Adobe Acrobat Reader format (.pdf).


Lake Sarah (MN DNR #27-0191) is located in sections 1 and 2, township 118, range 24; and in sections 34 and 35, township 119, range 24, Hennepin County, Minnesota. GPS 45°4'19"N 93°41'24"W surrounded by the Minnesota cities of Independence, Greenfield, Loretto, Medina, and Rockford. Click here to view a Google hybrid map of lake Sarah. Suggestions for content and services to be provided by this site are always welcome! E-mail this website with your feedback, suggestions, comments or ideas.

Copyright © 2001-2023
Brad L. Spencer. All rights reserved. Photos are used by permission only, any use of images posted here must conform to the current published Use of Content Policy (see below).
The following websites: lakesarah.com, lakesarah.org, lsia.org and lakesarah.net are neither owned nor operated by the Lake Sarah Improvement Association (L.S.I.A). The L.S.I.A. is therefore not responsible for this website's content. Opinions expressed on these sites are not neccessarily those of the L.S.I.A. or its board of directors. Links to this site are welcomed subject to the conditions as posted on the

Linking & Use of Content Policy

page. News and information are from sources that are thought to be reliable but no guarantee as to the accuracy of these items is implied.